Steven Saunder's Top 10 Tips for the perfect Christmas Turkey
Celebrities Editorial Food & Drink Seasonal Celebrations
Whether you are cooking your turkey in a villa in Marbella or at home somewhere else in the world these top tips will ensure everyone is WOWED at the Christmas table!
Cooking the perfect turkey on Christmas Day is perhaps the most talked about recipe in the family home. Is it Mum's recipe, Grandma's or does Dad, in fact, make the best gravy? Whether you are reading this from here in Marbella or somewhere around the globe, if you want to save the day this Christmas then read my top ten tips and recipes below and claim all the glory when you serve that perfect Christmas Turkey!

Steven´s Top Ten Christmas Turkey Tips:
ONE
- Turkey originally comes from the forests of North America and Mexico, there are some fantastic varieties available like bronze or black which have a great gamey flavour. In Spain, the National Turkey is not as intensively farmed as they are in the UK and you can find great birds in the large supermarkets such as Mercadona or El Corte Ingles or you can of course go to one of the fabulous local butchers that we have along the Costa del Sol. Choose a large fresh bird to ensure the best flavours between 5 kilos to 7 kilos. (Serving 8 upwards)
TWO
- If frozen ensure you defrost it at least 24 hours per 2 kilos. (A 5 kilo Turkey needs a minimum three days defrosting, I would allow four days in the fridge) Never defrost a turkey at room temperature as it breeds bacteria.
THREE
- Take the turkey out of the fridge 1 hour before cooking
FOUR
- Put soft butter mixed with parsley and seasoning under the skin of the turkey and add salt and pepper to the outside and inside the turkey. Don't add garlic as turkey is a gentle simple flavour and garlic is often overpowering. Any butter left over smear into the breasts on the outside skin (This can all be done the day before) Lay slices of streaky bacon over the breasts horizontally to cover the carcass of the bird after the bird has had 15 minutes sealing, See 6 below.
FIVE
- Put an onion and some bay leaf and thyme inside the bird but do not put the stuffing in the cavity.
SIX
- Cook the bird upright (breasts up) in a deep dish (to collect the fat) in a preheated oven at 225c to get the bird nice and brown for about 15 minutes then remove the bird and lay the bacon on the breasts as described in point number 2. Now lower the heat to 160c.
SEVEN
- Roast for 30 minutes per kilo about 2 ½ hours for a 5kg bird.
EIGHT
- Remember to baste the bird, every so often (approx. once every 20 mins)
NINE
- Use a thermometer to check that the meat in the thicker thigh of the turkey or the thicker part of the breast when it is cooked it should read 165F about 74C.
TEN
- Allow the turkey to rest (it will continue to cook internally) for at least 20 minutes after cooking then present it and carve!

Stuffing
It is important to make your stuffing on the side, and don't include it in the cavity of the turkey. Do this to avoid bacteria (salmonella), which will drain off the bird and into the stuffing.
Ingredients for a homemade stuffing
Cooking time: 45 minutes | Serves about 10
Preheat oven to 350 degrees F.
1/2 pound of good sausages
4 small diced onions
½ head of diced celery
300g approx. of wild mushrooms
300g of bread crumbs or use Panko crumbs even better
Approx. 4 tablespoons of roasted peeled and chopped chestnuts
A small sprig of fresh sage and thyme leaves
Brown the sausage meat in a large pan. Drain the juice into a separate pan. Put aside. Add the onion and celery to the large pan with the sausage, sautéing frequently until tender.
Add all the remaining ingredients — mushrooms, bread crumbs, chestnuts, sage and thyme. After 15 minutes of cooking to make sure all the ingredients and natural juices have blended together. Pour the grease from the sausage back into the pan to add flavour and moisture.
Put the stuffing into an oven proof dish with slices of butter on the top and put into a preheated oven. Bake for about 45 minutes.
Basic Gravy
Ingredients
Cooking time: 2-3 hours | Serves 10
10 pounds (4 kilo) mixed poultry bones, pre-roasted
4 onions, chopped
1 head of celery, chopped
2 carrots, chopped
1 tube of tomato paste
2 tablespoons butter
2 tablespoons flour
Thyme, two sprigs
2 bay leaves
½ bottle red wine
In a large stockpot, combine all ingredients. Fill the pot with cold water or use a chicken stock in tetrapack (Caldo in Spanish) available in all supermarkets which is better than water. Add a couple of bay leaves and sprigs of thyme.
Simmer (do not boil) for three hours. Strain and transfer the ingredients to another pot. Add red wine. Reduce this by cooking it until it's all a bit concentrated almost by half.
To thicken the stock, combine with the butter and flour and whisk in. Cook this out for at least 30 minutes. Finally, use a little of the turkey juices from the roasting tray and add this to the sauce above, taste and season well and serve.
ABOUT STEVEN SAUNDERS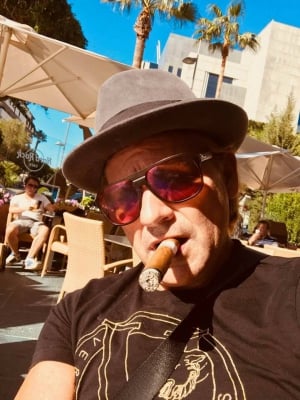 Chef Steven Saunders was trained at the famous Savoy Hotel in London in the seventies and went on to become Britain's youngest Chef Patron of The White Hart Great Yeldham in 1981* Steven was only 19. After several years as Chef Patron Steven bought his first restaurant with 100% bank loan, The Pink Geranium in 1986. He launched his famous Rolls Royce service (collecting clients free of charge) and fell into an opportunity with local BBC Radio to appear twice weekly presenting his own food show.
In 1989 Steven was awarded the coveted Michelin red M and Star for excellence and his Pink Geranium restaurant was awarded 3 AA Rosettes putting it in the top 20 UK restaurants and Steven appeared as a regular on BBC's Good Morning TV weekly and then launched the BBC hit TV series Ready Steady Cook in 1994 which he appeared on approximately 200 shows. Steven was also chef presenter for Channel 4's Here's one I made earlier' and often appeared on other various TV shows like This Morning. Steven has also written 10 best selling cookery books* selling over half a million copies worldwide.
He expanded his restaurant and hotel business to The Sheene Mill Hotel nr Cambridge, The Lowry, Manchester, Brocket Hall Restaurant and Golf Club, Welwyn Garden City and Steven Saunders in Newmarket the first 100% accredited organic restaurant. During this time Steven won awards for Best Restaurant UK (for The Pink Geranium) Business Person of the Year, A Fellow of the Master chefs Association (about 30 worldwide) Young Entrepreneur of the Year and an Acorn (Caterer Magazine award) for Best Young Restaurateur.
Steven currently owns and manages The Little Geranium restaurant in La Cala de Mijas with his wonderful wife Michele.