New Head Chef Andreas Nygren raises the bar at Amaï by Ocean Club Marbella
Editorial Food & Drink Hot List
Ocean Club Marbella brings a new menu, fresh talent and some Riviera style with the launch of their restaurant Amaï
Ocean Club Marbella is well documented as one of the most Luxurious Beach Clubs in the World to party in the Mediterranean sunshine whilst sipping on fine wines and expensive champagne and admiring the beautiful people lounging on the oversize sunbeds.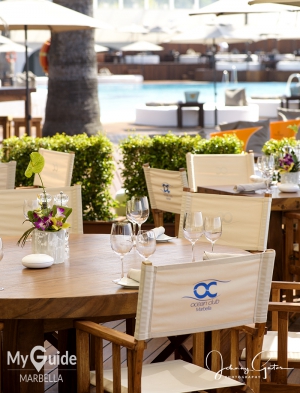 We most certainly don't disagree with this either however we believe that their restaurant, now launched as
Amaï by Ocean Club
, has been overlooked by the media for years so with new Head Chef Andreas Nygren recently taking the helm we felt it was high time we focused on the seriously good food that is coming out of the kitchen, the obvious world class skill of the ktichen and bar staff and a little less on the party.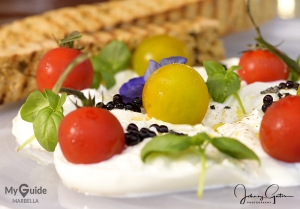 The restaurant is one of the keys to the success of Ocean Club Marbella and Chef Andreas together with his talented team raises the bar quite significantly this year with several fresh new dishes as well as the signature Ocean Club favourites that many will say they have every time they visit! (Yes, we agree the OC burger is legendary but you really should venture towards some of the new dishes too!)  Dining at the restaurant does not necessarily need to be part of a full day at the Beach Club and you can make a reservation just for lunch 7 days a week.  We enjoyed our lunch at Amaï on a relaxed Wednesday afternoon with the sun overhead, chilled tunes playing in the background and the front line Mediterranean sea view literally being to perfection....not a bottle of Champagne spraying in sight.
The menu represents inspiration from around the globe, Sushi still being a large part and some exotic hard to source ingredients also in the mix, but with a welcome Spanish influence and healthy use of local market produce too.  Whether you are looking for a light bite to maintain that killer bikini body and keep the GI index down or feel like indulging and working out the calories when the skies become a little more cloudy the Amaï by Ocean Club menu is certainly one of the My Guide Marbella Beach Restaurant favourites for 2017. 
Our Starters included :
Seared Bluefin Tuna wtih Cucumber, Peanuts and Watermelon served with a Coriander, Lime, Chilli and Roasted Coconut dressing (for sure Fay's new favourite salad of the summer!)
Burrata with Cherry Tomato and Grilled Focaccia served with Lemon Oil, Baby Basil and Black Pepper and Salt 
Alaska King Crab Tartar and Golden Caviar with Horseradish, Dill, Dijon and Cripy Flatbread
Fresh Veggie Roll with rice paper, Romaine Lettuce, Cucumber, Carrot, Avocado and Asparagus (you don't need to be Vegetarian to enjoy this!)
Our Mains included:
Sea Bass Sesame Crusted Fillet with Bok Choy, Lemon Marmalade, Soy and Wasabi Pearls
Singapore Style Crab with scallops, Tiger Prawns, Spring Onion, Coriander and Jasmine rice
Hot Chicken Tandoori (which was served with one of the best Raita's we've ever tasted!)
The Classic OC Wagyu Burger
Our desserts were sublime, fresh and fruity and then the cocktails that were flowing from the bar throughout our lunch date were blended to perfection; not only were the mixologists (that's a cocktail barman to most of us) fun and engaging they were also absolute masters at work so if there is one place you need to visit this summer for a G&T to remember then we say a Wednesday afternoon at Ocean Club Marbella is one for the diary!
To make your reservation at Amaï or to book your bed and complete experience simply click on the links below
Amaï 
by Ocean Club Marbella
OCEAN CLUB MARBELLA