Steven Saunders famous Christmas Pudding Recipe
Celebrities Editorial Food & Drink Seasonal Celebrations
Margaret Thatcher called my Christmas pudding
Ho Ho Ho!
We may be in sunny Marbella but I've just looked at the calendar and realized the date…Christmas is only weeks away! I love Christmas. I love the way that families get together, the log fires, huge nerdy jumpers and the smell of roast Turkey, Christmas punch or mulled wine and especially Christmas pudding.
I make prepare my Christmas fruit mix about a year in advance allowing the fruit to be soaking in alcohol for all that time makes it truly special and this week is the week that I mix it ready for puddings to be served at my Little Geranium in La Cala.
If you've not yet made your Christmas pudding then this is the week to make it and whether or not you have the fruits marinating for a year in alcohol it will still be a zillion times better than any shop bought pudding, also cheaper and it's so easy to make! So this is the week!! Don't wait any longer, use this recipe, no other and you'll love me forever when you taste it! Originally this was a recipe of my great great grandmother who was French and died in the early 1900's, she loved the English Christmas pud and over the years I have adapted it very carefully to make sure its originality is still in place but it has evolved very slightly! In 1989 Margaret Thatcher called my Christmas pudding "Better than Delia Smiths!" I wasn't sure whether or not that was a compliment but I smiled and said, "Yes Prime Minister…Thank you".

My Great Great Grand Mother´s Christmas pudding from the 1800´s
(Makes enough for about 8 people)
You will need two 1.5 litre ceramic pudding bowls. You'll also need some greaseproof paper, foil and kitchen string.
Pudding ingredients:
175g of plain flour
250g fresh white breadcrumbs
250g suet (vegetable suet is preferred)
175g each of raisins and sultanas (washed)
100g of candied peel
2 oranges zest and juice
175g of dried cranberries
175g dried figs chopped
100 g of dried apricots chopped
100g of glace cherries
100g of ginger in the syrup chopped small ( but also use some of the syrup.. say 2 tablespoons)
2 large Cox-type apple peeled, cored and chopped fairly small
300g soft dark brown sugar
Generous teaspoon of mixed spice
Pinch of salt
A full wine glass of cognac (or a liqueur such as Cointreau)
6 eggs, beaten lightly
Soak the sultanas, raisins, figs, peel, apricots, cherries, in the brandy and the ginger syrup for a few days giving it a stir now and then.
After a few days mix the ginger, apples, orange juice and zest and the eggs, suet, sugar and the breadcrumbs and then the flour and mixed spice in a separate bowl.
Use a large mixing bowl. Simply mix all the fruit and everything else together. Stir very thoroughly –
Grease two pudding basins and divide the mix between them.
If you like, you can add a 5p coin, wrapped tightly in greaseproof paper. Pack the mixture firmly into the pudding bowl or bowls, but don't fill right to the top - leave about 5mm space
Cover the puddings with greaseproof paper. If using ceramic bowls, put on a lid of foil and tie a string handle around the top of the bowl so that you can lift it in and out of the pan. Put the pudding/s in a saucepan of boiling water, to come 2/3 of the way up the sides of the bowl. Turn down the heat, put a lid on the saucepan and simmer for about 3 hours.
Check that the water levels are ok– not too low (won't cook properly) and not too high
The puddings are cooked when they are nicely dark. Store in a cool dark cupboard till Christmas, then replace the foil and steam for about 3 hours gently. Flame with brandy to finish and dust with icing sugar and serve with brandy cream or brandy butter.
About Steven Saunders
FMCGB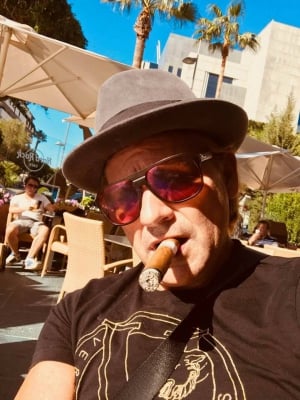 Chef Steven Saunders was trained at the famous Savoy Hotel in London in the seventies and went on to become Britain's youngest Chef Patron of The White Hart Great Yeldham in 1981* Steven was only 19. After several years as Chef Patron Steven bought his first restaurant with 100% bank loan, The Pink Geranium in 1986. He launched his famous Rolls Royce service (collecting clients free of charge) and fell into an opportunity with local BBC Radio to appear twice weekly presenting his own food show.
In 1989 Steven was awarded the coveted Michelin red M and Star for excellence and his Pink Geranium restaurant was awarded 3 AA Rosettes putting it in the top 20 UK restaurants and Steven appeared as a regular on BBC's Good Morning TV weekly and then launched the BBC hit TV series Ready Steady Cook in 1994 which he appeared on approximately 200 shows. Steven was also chef presenter for Channel 4's Here's one I made earlier' and often appeared on other various TV shows like This Morning. Steven has also written 10 best selling cookery books* selling over half a million copies worldwide.
He expanded his restaurant and hotel business to The Sheene Mill Hotel nr Cambridge, The Lowry, Manchester, Brocket Hall Restaurant and Golf Club, Welwyn Garden City and Steven Saunders in Newmarket the first 100% accredited organic restaurant. During this time Steven won awards for Best Restaurant UK (for The Pink Geranium) Business Person of the Year, A Fellow of the Master chefs Association (about 30 worldwide) Young Entrepreneur of the Year and an Acorn (Caterer Magazine award) for Best Young Restaurateur.
Steven currently owns and manages
The Little Geranium
restaurant in La Cala de Mijas with his wonderful wife Michele.