Luxury Marbella Living in the Winter months
Editorial Food & Drink Lifestyle Mini Break Retreats & Relaxation Seasonal Celebrations Sports
John Thomson from the Marbella Club Group shows us how a trip to the slopes can still be a luxury experience if you know where to go and shares his personal dining favourites!
In my first Luxury Living and Gastronomy blog for My Guide Marbella and as the temperatures start to drop slightly it seemed appropriate to give you all an insight into one of my favourite Marbella Winter experiences, a weekend of ski-ing and food heaven in Sierra Nevada at
El Lodge Ski & Spa
which I enjoyed just last week when the doors were opened again for the Season.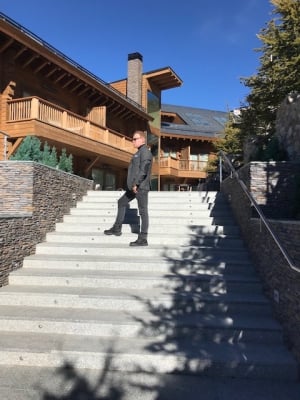 It takes 2 hours' drive to change the sunny Mediterranean coastline to snowy, but still sunlit, winter wonderland. The
Sierra Nevada
in translation "snowy mountain range" is a mountain range in the region of Andalucía, and combined with time also spent on the Coast it makes for the perfect Winter getaway.
As all the ski-fans are aware, a true ski-holiday isn't complete without the ability to have your boots pre-warmed, ski straight to the door, be welcomed with mulled wine and then be able to step into a hot Jacuzzi and enjoy a fabulous massage at the end of the day! The fact that these all come as standard at El Lodge is exactly why it's the only place I would suggest to stay if 5-star Luxury is top of your requirements! There are 45 tracks and six off-track ski runs which surround the hotel, and Chairlift Parador 1 is just 50m from the front door. Due to its comfortable driving distance from the famous Costa Del Sol you can take advantage of the unique combination; to ski in the mountains in the morning and later that day, take a lunch on the beach… or vice versa, however, my suggestion would be to leave Marbella in the afternoon to arrive at El Lodge in time for complementary mulled wine at The Bar from 5pm, enjoy an evening of fine dining at the hotel and then wake up fresh to ski the following morning!
Owned by legendary Marbella Club Group, the picturesque Alpine-style hotel offers the opportunity to ski-in from the slopes to its sunny terrace and then ski-out to Sierra Nevada's village. With a gabled roof and golden exterior crafted from Finnish wood, El Lodge is an enchanting boutique retreat in Sierra Nevada's fairy-tale landscape. Cosily kitted out with vintage ski posters, antler chandeliers and animal prints by designer Andrew Martin, the contemporary interiors redefine log cabin luxury. A stay at El Lodge does not come with the pre-requisite to partake in the actual activity of ski-ing though so don't be put off coming to the mountains if you don't see yourself as the sporty type! Leave the ski-boots in the hire shop and simply enjoy the fabulous gastronomy, superb spa facilities and magical landscape. For an après ski lunch or for people watching, you cannot get a better Alpine setting than Sierra Nevada; I would even compare the setting and location to the exclusive Corviglia Club in St Moritz, but pleased to say the price was much more economical whilst still high in the glamour ratings!
El Lodge has different Gastronomic options to indulge your tastebuds so let me tell you a little about each to whet the appetite.
The Sundeck Terrace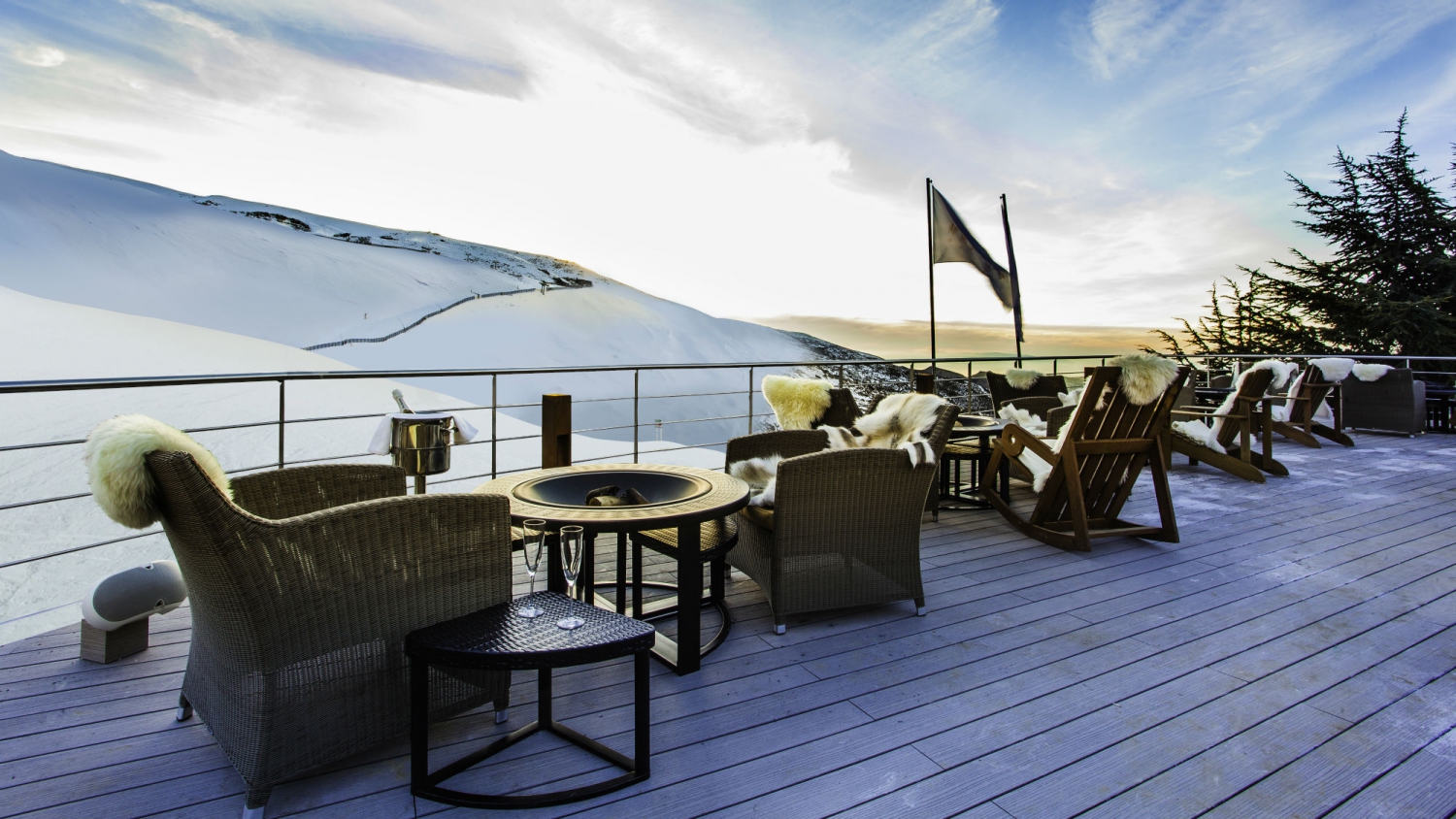 Managed by Rea - a charming young lady that imparts a real professionalism to her team motivates them and ensures that service is friendly yet efficient. No die-hard skier wishes to waste their precious ski-time with an overly long lunch unless of course, waiting is a priority and their preference is to relax, enjoy the après ski and soak up the sun in the aptly named
"Sun Deck".
Either way, this restaurant will tick the boxes for foodies.
The terrace overlooks the slopes and offers an extensive informal menu featuring some Alpine-classic dishes such as, Cheese Raclette or Swiss Fondue, and my
Personal favourite, the Hand-Cut Truffled French Fries with Melted Parmesan
. The Eclectic Sun Deck menu serves some great Snacks, Tapas, Hearty Soups, Gourmet Pizzas as well as well as some Creative dishes and a
MOUTH WATERING
signature El Lodge BBQ Platter, to pump up all these energized skiers who are craving a more protein-based cuisine.
The menu is meticulously executed by Juan Martin our Executive chef, one of the rising stars in Marbella Club Group that has been working for the group in many of their hotels throughout Europe and The Baltics.
The Grill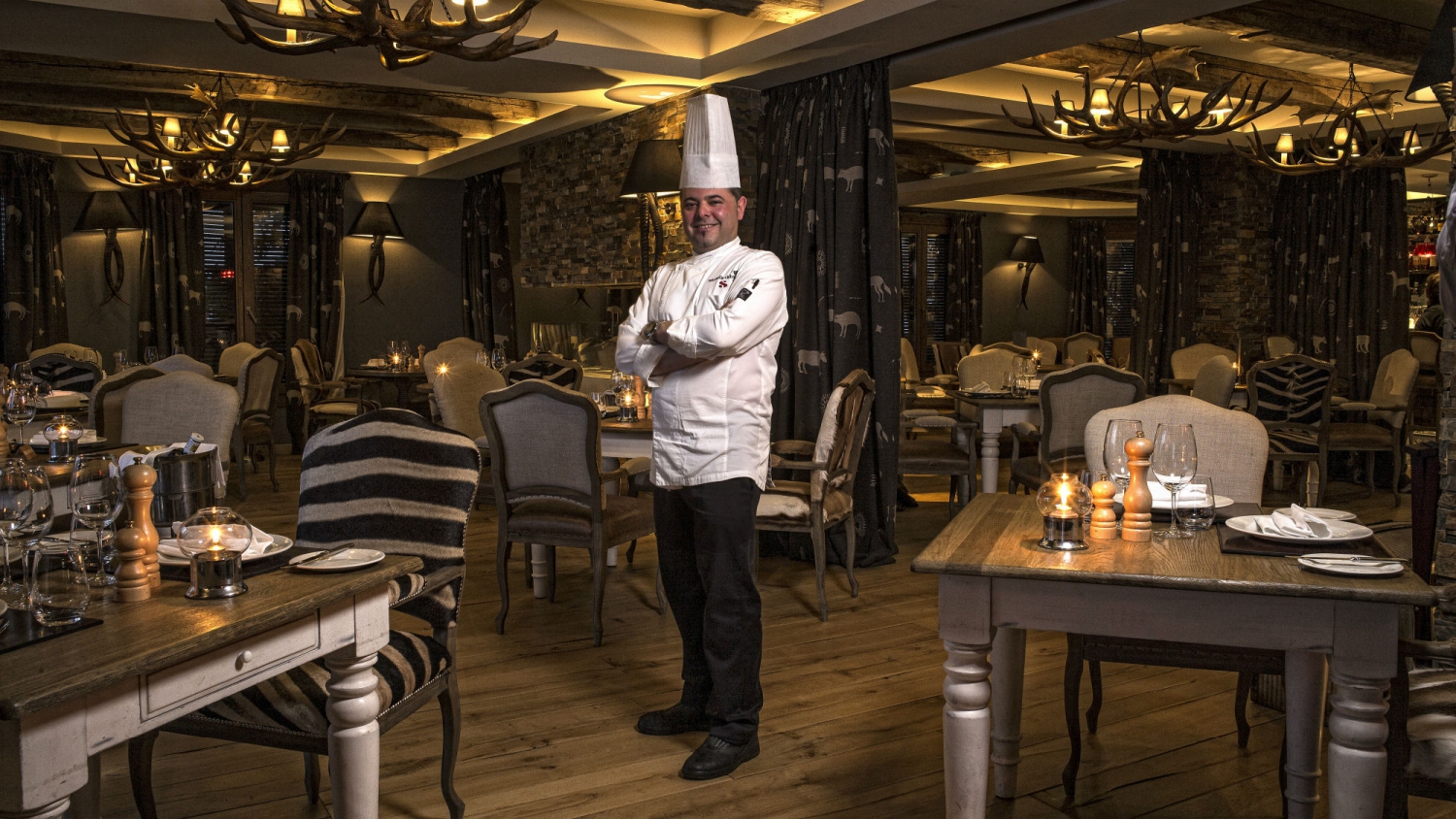 This is the main restaurant at El Lodge for more formal gourmet dining. The room reminds me of a contemporary hunting lodge with antelope lamps dawning the ceiling and walls, filled with restaurant chairs decorated with animal skins all of this add to the feeling of being in a very sybaritic Ski-Lodge environment. In the evening when the vintage oil lamps are lit and the fuel flamed contemporary fireplace is ignited this all imparts a warm luxurious glow to the room and a relaxing haven for foodies to indulge in exquisite cooking accompanied by fine wine from the Wine cellar. The menu is strong on local ingredients, and is an off-shoot of its sister restaurant, the iconic Marbella Club Grill. However, the dishes at El Lodge Grill are much more contemporary in their presentation and the team have put their own stamp and individuality to each plate.
My favourite dish to start is the Ravioli Bisque filled with Crab and Prawns and then for my main, I love The Rack of Venison with Juniper, red fruits and seasonal mushrooms
. It is cooked to perfection and it reminds me of my young days in Scotland when my mother would always cook venison for special occasions. It is such a rich decadent country house dish! For those of you that are keen to stay lean though you will be happy to hear that there is also a nutritionally balanced "Healthy Menu" on offer.
The Sommelier, Luca is happy to pair wines for your meal and he has great knowledge and a great nose for selecting the wine, picking out lesser-known local varieties to match your choice of food.
Service flows immaculately, and all credit must go to Javier Anderez the 1
st
Maitre who is at the helm of all the points of service within the Hotel. He demonstrates true passion and professional demeanour ensuring that all guests requests are looked after, checking on all the details, organizing the team and briefing them before each evening on how the evening should flow.
The Bar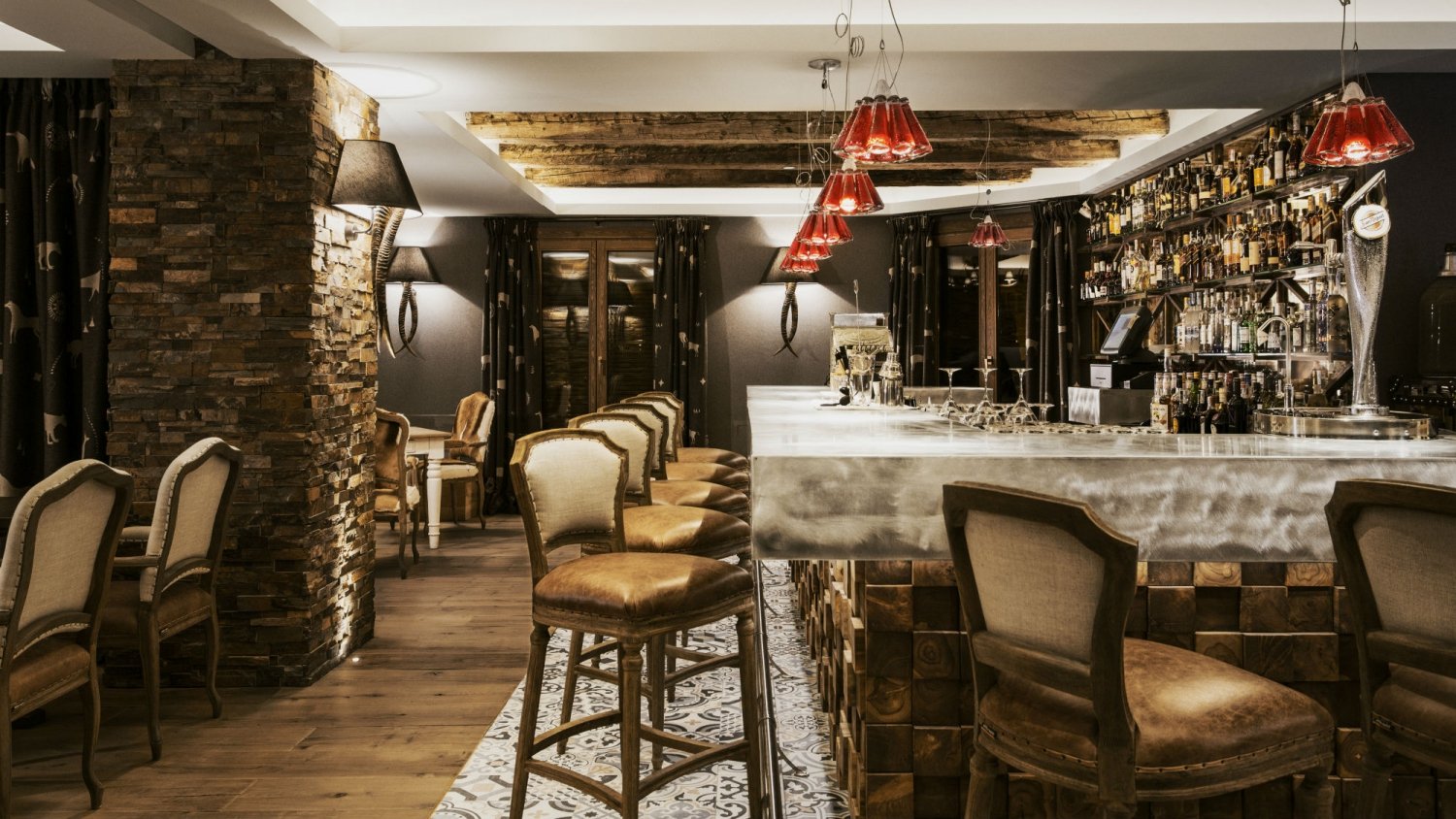 The Bar is open every evening from 4pm and is THE place to be for Aprés Ski Cocktails or late night drinks. Javier the Mixologist is always on hand to shake up a signature cocktail, make a perfectly blended Bloody Mary or simply pour a glass of vintage Cava if the request is forthcoming.
My recommendation would be to sample the signature Expresso Cocktail for a pre-dinner energy boost!
No doubt I will return to El Lodge on several more occasions through the winter season and I hope this blog has inspired some of you to do the same. Gone are the days where the only dining experience in Sierra Nevada was either a Ham & Cheese Baguette or maybe Pizza if you were lucky and it really does offer such a magical contrast to the Marbella Coastline that a visit simply has to be on your Marbella Winter To Do List!
To make an enquiry or reservation at El Lodge with the management directly simply
click the link here
and send your request.
ABOUT JOHN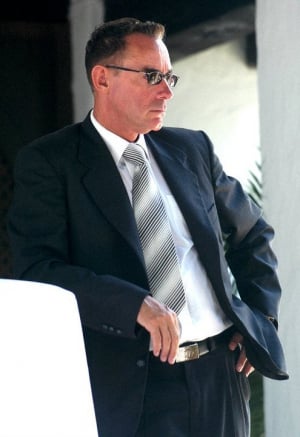 John Thomson Group Corporate Director of Food & Beverage at MC Hotels
Instagram: @john.tmc
John is currently in charge of the MC Hotel Group's Food and Beverage Department which includes 10 hotels as well as the UNI Restaurant in Belgravia London. He also acts as a consultant for Luxury Hotel Partners working on projects with sister company Small Luxury Hotels and is an instrumental part of the organisation of the Concerts and Tennis Tournaments at the Puente Romano Hotel. Before joining the Marbella Club Hotel Group John worked as the Operations Director for Celebrity Marco Pierre White in iconic restaurants such as Mirrabelle, Criterian, and the 3 Michelin Star Oak Room Banqueting at the Grill Room. John will often be found at one of the many restaurants overseeing the most sophisticated high society dining affairs and chatting with celebrities but out of work, he likes nothing better than a relaxed afternoon in the Marbella sunshine with his family.