Know Your IPA From Your Stout, Marbella Beer Master Fraser Dodge Takes The Mystery Out Of Beer Styles
Editorial Food & Drink Lifestyle
Our Top Experiences and Tours in Marbella:
If youʻre booking your trip to Marbella last minute, we have you covered. Below are some of the top tours and experiences!

When it comes to craft beer, most newbies are at a loss as to which beer they should try. Having been exposed for most of their natural lives to a selection of incredibly similar fizzy, yellow lagers, the world of craft can seem intimidating. But it doesn't have to be!

To get one thing out of the way early, the essential differences between a lager and an ale need to be noted. It's incredibly simple. Yeast and temperature. That's it. No scary science at all.

Lagers use a bottom fermenting yeast and ferment colder than the top fermenting, warmer conditions needed for an ale. The higher fermentation temperatures of the ales release the esters in the yeast, giving the fruity flavours some find appealing or appalling.

There you have it.

Now comes the trickier bit. Choosing a style that you will enjoy. Seeing as there are over 100 styles of beer, anyone who says to you that they don't like beer, will need to give you a very good reason. Maybe they don't like lager. Or the pungent, bitter fruitiness of the king of craft beers, the IPA. But until they have tasted extensively from beer's bounty, ignore them and get them to try one more style. There really is one for everyone.

As a quick guide, the main styles you are likely to encounter on a decent night out are explained. Just remember, craft brewers are notorious for chucking the style book out the window and reinventing beer as they see fit. All styles are loosely translated except for competition entries where it is important to stick to the parameters otherwise the brewery gets marked down.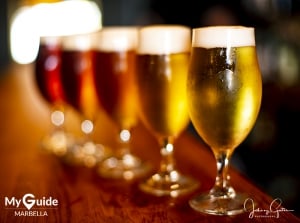 IPA
First up is the big, bold IPA. India Pale Ale gets its name from the colonial days of the British empire. Troops billeted in India wanted their beer, naturally. But the time taken to ship the beer was problematic, causing it to arrive oxidised, tasting like wet cardboard. The brewers responded by upping the alcohol content of the Pale Ales they were brewing, and bunging a decent handful of hop blossoms in to the barrels before shipping, a process now known as dry hopping.
Being a powerful antioxidant, the hops imparted strong floral characteristics to the aroma while preventing the beer from oxidising. Fast forward a few hundred years and we have the world's perennial favourite on tap from Calcutta to Cleveland and everywhere between and beyond.
Within the style, there are parameters which the brewer can play with, hence the vast array and difference in the finished product. Typically slightly higher ABV than a mid-range lager the IPA will be between 5.5 - 7.5%. Led by hops on the nose with resinous, floral, citric aromas dominant with an underlying support from the malt base. High to very high hop character and bitterness complemented by some clean light caramel and malty support. Medium dry finish with some residual sweetness mixing into a heavenly, well balanced mouthful of pure pleasure with the bitterness still present but not harsh.
PALE ALE
If that is all too much for you, the younger sibling of the IPA is the Pale Ale. Without the dry hopping, this beer is still a hop forward style with pronounced bitterness supported by the slight malty sweetness. ABV is also reduced and within a 4.5 - 6.2% range. Caramel malt flavours are reduced to a restrained level, allowing the bread/biscuit malt characters to show themselves. Some fruity yeast esters are present and are acceptable.
AMBER ALE
Obviously darker and heavier on the caramel and toasted malts, the sweetness of the style is more apparent. It still needs to be balanced by the hops, with the American versions being more bitter and hop forward on the aroma. Allowing for a little fruit ester character from the yeast, this beer should be a well balanced act between the malt and hop characteristics. Finished with a bittersweet, lingering flavour with a hint of caramel. A personal favourite. A well executed example can brighten any day.
GOLDEN ALE/BLOND
The first port of call for a lager or pilsner drinker looking to explore the world of ales. This is a wide ranging style that incorporates the Belgian examples and moves across to the hoppier American versions. Typically a golden straw colour supports a dense, small bubbled head. Some beers will display a much stronger malt presence than others, depending on the area it is brewed in. Served colder than a traditional craft beer, mimicking the temperature that lager drinkers are accustomed to. A fantastic thirst quenching alternative to the commercial dross we are forced to suffer.
PORTER/STOUT
A bit cheeky to incorporate two styles into one description but with good reason. Stout started out as a porter and only gained its own style definition later. They are both at the very dark end of the colour spectrum and range from a deep dark reddish copper to black for the stouts. Both have a rich, smooth malty sweetness with little hop presence making itself known. Flavours of chocolate, coffee and even a toffee like character are all acceptable. Secondary flavours of liquorice, biscuit and toast come through in the the complex malt backbone. Made famous by Guiness, there are some more deserving craft alternatives worthy of your attention. The imperial versions can get up to a heady 12% ABV.
WEISS
Weiss beer, or white beer, is made from a predominant wheat grain bill. The yeast used doesn't drop out, leaving the characteristic cloudiness. Strong phenolic aromas typically of cloves and/or bananas. Displays a very thick white mousse head which persists. Best drunk fresh, it is a refreshing, easy drinking but filling beer which has high carbonation and a medium body. Some versions are now sporting higher levels of hops as well as adjuncts, such as lemongrass. An easy style for craft novices to try.
There will be a lot of other styles you will encounter in a decent craft bar, but these should give you a half decent overview of the most likely offerings. Even if there are more than one IPA on the list of available beers, try each one. The style guidelines are broad enough to allow for significant variance in interpretation resulting in very different examples.
But be warned. Once you have sampled craft beers, the likelihood of you being satisfied with the shitty lagers which are on offer at uninitiated bars is extremely small. Which means your quest for real beer will take you to places never visited to meet likeminded souls in search of real flavour.
Craft beer leads to adventures. Let's be honest. No great tale started with friends meeting for a salad.