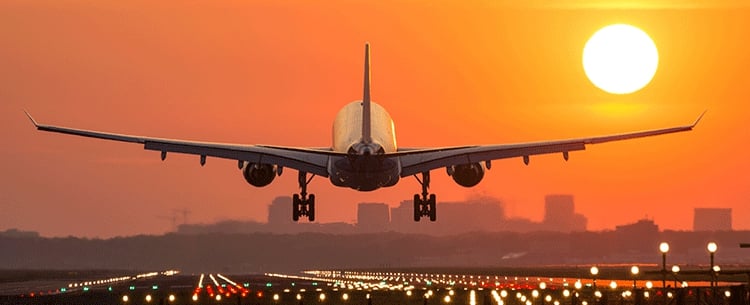 Marbella Airport
There actually is no airport in Marbella, however there are 2 airports within an hour drive of Marbella which are serviced by most major airlines. The larger of the two options is Malaga Airport (AGP) and the other much smaller but quite recently reformed option is Gibraltar Aiport (GIB).
The best way to get from either airport to Marbella is to organise a private transfer. Click here to book with our recommended transfer company or email us for a personalised quote marbella.enquiries@mydestination.com . We can help you with Shuttle buses, Limousines or even a Disco bus so that you arrive in style.
Malaga Airport
This is the main airport used to access Marbella, serving close to 12 million passengers each year. Flights come into Malaga Airport from 60 countries worldwide, including Europe, Africa, the Middle East and North America too. It's recently undergone a huge overhaul with the addition of a third, more modern terminal, with lots of new shops for those last minute gifts, great places to eat and relax and to grab a quick drink before your flight, so it's easy to see why it's the fourth busiest airport in Spain. There's plenty of airlines to choose from that fly into Malaga Airport, the majority of them low cost budget airlines, including:- Ryanair, Easyjet, Monarch, Jet2, Vueling, Transavia, AerLingus, Thompson Airways, FlyBe, Norweigen Airlines and British Airways.
It will take you just 45 minutes to get to the heart of Marbella and Puerto Banus, and if you're a large group, it's worth prebooking a transfer service - from a minibus to something more special - which will save you heaps, just email marbella.enquiries@mydestination.com for a personalised quote.
For more information on the whole airport experience, check out our Malaga Airport Information page.
Gibraltar Airport
This is quite a unique airport as the runway runs right across the main entrance into Gibraltar, so when you're landing or taking off, the main road is closed and you have quite an audience!
Airlines that fly into Gibraltar Airport include Monarch, Easyjet and British Airways, flying in from London, Manchester and Birmingham.
Getting to Marbella will take you about an hour, and your best bet is to organise a transfer of minibus or a limousine or disco bus for those special occassions and really start your holiday in style; simply email marbella.enquiries@mydestination.com for a qoute.
Leave with plenty of time to spare though because there could be possible delays when driving in and out of Gibrlatar at the boarder.
Want more information on the airport and some handy hints, visit our Gibraltar Airport Information page.