Malaga
From El Pimpi to Picasso
Malaga is the second most populous city in Andalucia and is the sixth largest in Spain. It is supposedly one of the oldest cities in the world and was founded by the Phoenicians who named it Malaka (derived from the Phoenician word for salt because fish was salted in the harbour) in around 770 BC.
It is a lively and buzzing city with lots to see and do and many great places to eat and drink so it's a good idea to plan where you want to go before you are there otherwise you might end up walking around the city for days. There are some fabulous Michelin Star restaurants including La Moraga and Cafe de Paris which both serve delicious cuisine as well as some fantastic tapas bars where you can enjoy several lighter bites and a few glasses of vino after exploring the city. Our favourite tapas bars in the centre of Malaga include the very authentic El Pimpi, just minutes from the Picasso Museum and Vino Mayor or La Lechuga on the Plaza de la Merced for a more contemporary touch.
Malaga is also known for its famous exports including actor Antonio Banderas, golfer Miguel Angel Jimenez and painter and sculptor Pablo Picasso whose work is displayed in the Picasso Museum. Open from 10 am to 8 pm Tuesdays to Sundays, the museum traces Picasso's life and work and showcases ceramics, drawings and etchings made by the artist. Picasso's birthplace Casa Natal is also worth going to as it's not as busy as the museum. More recently the Carmen Thyssen Museum also opened its doors with a beautiful collection of paintings from the Renaissance period through to more contemporary years.
Also worth visiting is the Alcazaba - a Moorish fortification that was built to serve as the palace to the governors of the city, originally defending the city from incursions of pirates and is the best-preserved one in Spain. Overlooking the Alcazaba and with breathtaking views of the city is the Gibralfaro castle which is definitely worth walking around although there are lots of steps to walk up and down to make sure it's not too hot on the day that you decide to visit.

Other attractions to see are the Quecha Theatre which dates from the 1st Century BC and is the oldest architectural remains in the city and the Plaza de Toros, or bullring, which was built in 1874 and houses a museum that is dedicated to Antonio Ordonez - a legend in the world of bullfighting.
The harbour at Malaga is a hive of activity with cruise ships taking travellers all over Europe and boats importing cereal, cement and petroleum coke and exporting olive oil and dolomite. The port is currently undergoing huge developments and renovations with millions being spent to make it the new Puerto Banus.
Malaga's Feria takes place in August with the streets transformed into symbols of Spanish culture - live music and flamenco dancing ensues during the days while there is a fairground with rides and games at night.
Another big celebratory week is the Holy Week at Easter which has been taking place for more than 500 years and is famous worldwide. Dramatic processions occur throughout the city on Holy Thursday and Good Friday with more than 250 members of Nuestra Señora de la Esperanza wearing long purple robes and white pointed hats carrying 'tonos' or floats singing mournful saetas followed by women in black carrying candles.
It takes about an hour to get right into the centre of Malaga from the centre of Marbella by car and there are bus services available to Malaga city centre and the airport from the Marbella Bus Station. A high-speed train also connects Malaga to Madrid and Barcelona.


Visit our dedicated guide to malaga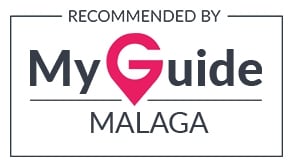 Â