Walter Francia Exhibition at Kasser Rassu Marbella
Arts & Culture Inspiration
Kasser Rassu, the heart of Marbella art
Walter Francia is a renowned artist engaged in painting and conceptual photography.
Born in Uruguay in 1956, his work belongs to private and corporate collections worldwide. His masterpieces range from oil painting to conceptual photography. The landscapes created by this artist seem to have no boundaries and thus stretches on forever to the horizons. His latest works reveal his mastery of scale and proportion.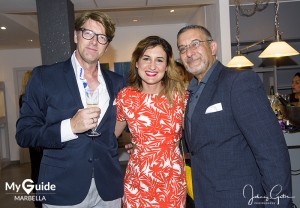 Not to mention, it is important for him that the harmony of his composition and colours develops freedom in invisible spaces. Francia considers himself as a spiritual and religious person – characteristics which he expresses in his works showing a certain order within chaos. His paintings reflect his character as a spiritual person, religious in his own way. He believes in the stirrings of the spirit and a certain order behind the chaos. He travels a lot and keeps landscapes, cloud formations, oceans and beaches in his head and transforms them into inner landscapes. Hence, his works take the form of figurative landscapes.
Conceptual Photography makes healthy use of graphical symbols to represent ideas, movements, moods, anything and everything that the photographer might want to include in the message... The work is presented mostly in dibon & liquid gloss, brushed aluminum, perspex or in linen. ON-THE-MOVE is a serie of photography, partially digital worked which has details of paintings. Many in clear warm transparent colors, black and white, sepia, and... obscurities, .... almost full loneliness situations. It is developed in train and subway stations, in the surrounding areas and in some trains themselves. ON-THE-MOVE is much more an intentional construct and composition designed to move and connect with the viewer in deeper more meaningful ways than most traditional photography.