Isaac Ordoñez Interview
Arts & Culture Celebrities Food & Drink Inspiration Interviews
Joining the team at Teatro Marbella to make 2018 an unforgettable season of world class performances!
Our Top Experiences and Tours in Marbella:
If youʻre booking your trip to Marbella last minute, we have you covered. Below are some of the top tours and experiences!

My Guide Marbella talks with the supremely talented

Issac Ordoñez

to discover a little more about the man behind the creative spirit and direction at Teatro Marbella. Isaac has gone forward with his ever-growing musical career, after 10 years of hard work and learning to use different instruments, he started a professional successful career. Isaac has worked with great artists on radio, television, music, musicals and theatre. Now

Teatro Marbella

are counting on him to make this year an unforgettable one.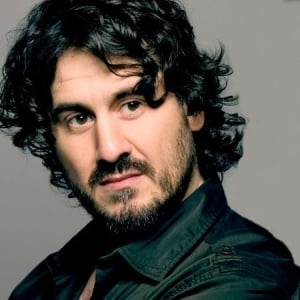 What is the most important aspect of someone's voice in your opinion?
The uniqueness, the personality that comes through and the ability to make a whole room of people feel extraordinary sensations.
How does someone become a musical coach?
Well, I have no idea... In my case, I have had the opportunities to join choirs, groups and I have been able to direct harmonies and compose through challenges that have come my way... But it all came about because of my work and jobs I had to be involved in whether it was a TV programme or a concert, a musical or even the production of a CD.
Also, you could add the number of years learning about the industry, working hard a lot of creativity and an open mind whilst listening to a lot of music.
What would you say that stands out from your professional career?
Well, first of all, I'd say I have been put down countless times but this has made me stronger and helped me fight for my dreams, to work harder and experiment more and it helped me pursue what has been my dream since the age of five. Having said that, learning to express myself in a unique manner is something that has taken a long time, experimenting and my love for the piano. After so many years I have found my personal expression that makes me feel comfortable but at the same time trying to reinvent myself and evolve.
Television, working in the studio or live music? Which is your favourite and why?
I'm going to respond with a very generic answer and that is that I love all of them, Music is my passion in all aspects which means that in each medium there is a new and different challenge to overcome and I have to adapt to different ways of working. Each one has its perks and I love working on different projects. I feel privileged to be able to do this, I'm very aware of it which is why I take my work very seriously. But how can I choose and why should I? It all forms part of the same thing and of course, there is stress involved but I handle it well.
Would you recommend Teatro Marbella? What stands out for you?
Naturally, I do recommend it, there's nothing like it around here, and the experience is great. When people come together with good ideas and to work hard, with experience and a lot of enthusiasm, the result is obvious.
Which aspect of your job do you enjoy the most?
The most beautiful aspect of my job is without a doubt, the montage because that is where its all created, I enjoy it a lot.
What about the hardest?
The same because you go to bed and wake up just thinking about it all and you don't stop until it's all okay!
If you want to enjoy one of Marbella's most unique and exclusive nights out then just click on the link here to
Teatro Marbella
and make your reservation, you won't regret it!