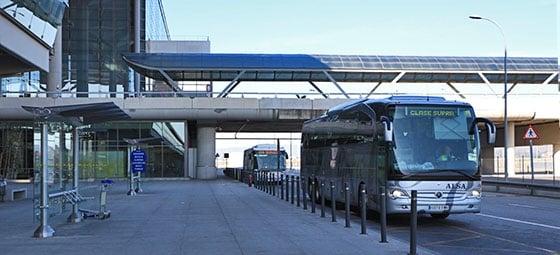 Malaga Airport to Marbella Bus timetable
The Avanza bus service in Marbella offers visitors and locals a reliable bus service across the Costa del Sol. One of the most useful routes is the Malaga Airport - Marbella Bus station shuttle service.
These buses run like clockwork and are naturally a much cheaper alternative to a taxi costing from just €6.15 one way. The "directo" bus travels on the toll road so it avoids much of the traffic on the slower coast road. The service departs regularly from right outside arrivals in Malaga and then from the Marbella Bus station you can easily walk into the town centre or catch a taxi in the direction of your hotel, villa or apartment.
To give you an idea of the price of a taxi onwards to Puerto Banus from the bus station you would pay approx €11 - €14 during the day and after 10pm and over the weekends and holidays it costs around €15.
At the Malaga Aiport end you no longer pay the driver you must buy your ticket from an office outside the arrivals hall. As you come out into the forecourt you will see a meeting point in front of you where you can go to pay. The ticket office is on your left in the corner. If you are departing from Marbella you purchase your ticket at the station.
The journey time is just 40 minutes, longer if you don't take the direct option, and the buses are airconditioned so even in the hot summer months it is a comfortable ride. They also now come with WIFI. My 60 year old parents are quite happy to use this service as well as me when fully loaded with cases and children so I can personally recommend it as a sensible option for most types of travellers. You can also book and pay for a ticket in advance if you wish using the AvanzaBus website.

Departure times from Malaga airport weekdays
08.15, 10.15, 11.30, 12.00, 12.30, 14.15, 16.15, 18.00, 18.50, 20.15, 22.30

Departure times from Malaga airport weekends and public holidays
08.15, 10.15, 11.30, 12.30, 14.15, 16.15, 18.00, 18.50, 20.15, 22.30
The telephone number for the Marbella bus station is +34 952 764 401
The telephone number for the Portillo bus service is +34 902 143 144
There are also luggage lockers at the Marbella Bus station - two different sizes. They are on the right when you get off your bus and come into the bus station. You buy a token from a machine next to the lockers -one token costs €3 and the other costs €4. You can leave your luggage there all day to go out and explore Marbella! Make sure though that you take out everything that you need for the day, sunglasses, money, suntan lotion and so on because you cannot open your luggage locker twice! It will charge you to open the locker again if you try so don't get caught out.
If you'd prefer a more private transfer from the airport, Marbella Taxis offer taxi and minibus transfers to Marbella, Puerto Banus and all other locations on the coast. Call them on +34 951 247 149 or book online here.