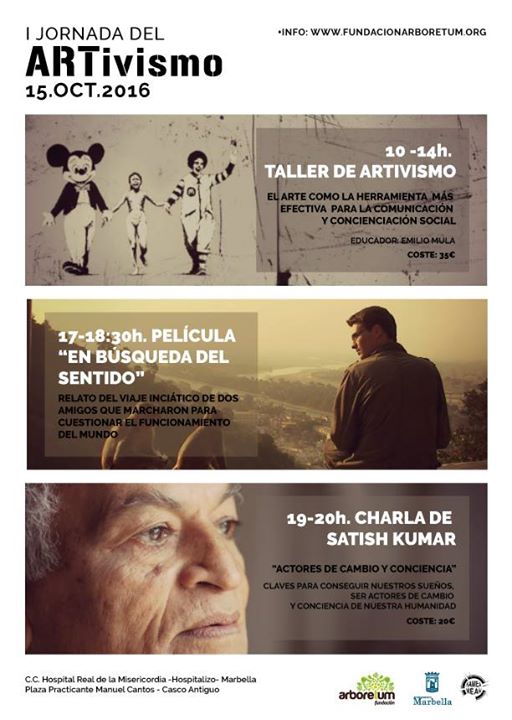 Taller de ARTivismo / ARTivism Workshop
C.C. Hospital Real de la Misericordia - Marbella - Plaza Practicante Manuel Cantos - Casco Antiguo.
Sat Oct 15th 2016 at 10:00 until 14:00
---
Marbella
,

C.C. Hospital Real de la Misericordia

,

Plaza Practicante Manuel Cantos

,

Casco Antiguo | Marbella

,

Malaga
https://www.myguidemarbella.com/events/taller-de-artivismo-artivism-workshop
BOOK NOW
Event Details
ES - Scroll down for English version

Uno de los elementos fundamentales de la permacultura es el diseño basado en la observación del entorno, si aplicamos este principio en el ámbito de la comunicación, descubrimos que la palabra no es siempre la manera mas efectiva de contar una historia, el uso de técnicas creativas como el Artivismo, Arte social, Arte sostenible, Landart y otras formas artísticas, son herramientas muy efectivas para la comunicación y concienciación social.

Nuestra taller de ARTivismo compone de lo siguiente -

Una breve introducción al Arte como herramienta de comunicación ambiental.
Aprendiendo a comunicar por medio del arte (Practica: instalación, performance).
La importancia de la interacción en el aprendizaje.
Introducción a un Arte sostenible.
Diseñando de manera colectiva, el Artivismo como forma de desobediencia social ejemplos COP21 (Practica: creando pequeños ejemplos de Artivismo).
Tocando el corazón, la comunidad como forma y objetivo Artístico. (Practica: Proyecto colectivo)

Educador Emilio Mula, es realizador de documentales, permacultor y vídeo artista. Actualmente es director de NU project una productora independiente en el Sur de Inglaterra cuyo objetivo es divulgar nuevos modelos y propuestas sociales basadas en la sostenibilidad y la creación de resiliencia. Durante los últimos 6 años a colaborado directamente con Transition Town Totnes, Transiton Network y Schumacher College. También es miembro del colectivo de artistas Encounters que tiene como objetivo crear espacios y procesos donde se exploren los vínculos sociales y nuestra relación con el entorno natural.

Horario de 10 a 14 hs.

Coste de primera parte : 35 euros

-----------------------------------------------------------------------------
On the 15th of October the Arboretum Foundation is organizing three amazing activities to inspire and engage attendees in the importance of caring for our environment, being more sustainable and making a change. These include an ARTivism Workshop, a screening of the film A Quest for Meaning and an inspirational talk on Being an Agent of Change from Satish Kumar, one of the world's leading activists and pacifists. The event will take place from 10am to 8pm at the C.C. Hospital Real de la Misericordia in Marbella's Old Town and attendees can choose to attend all, or just some of the activities.

There is an ARTivism workshop from 10-2, explaining this powerful concept of art as a tool for activism and creating artworks which encapsulate this concept. ARTivism is art with a purpose, which can communicate environmental messages, inspire change and connect emotionally with the community. Teacher Emilio Mula will explain the theory and lead the group in practical projects to create works of art. Tickets are 35€ and numbers are limited to 20 participants.