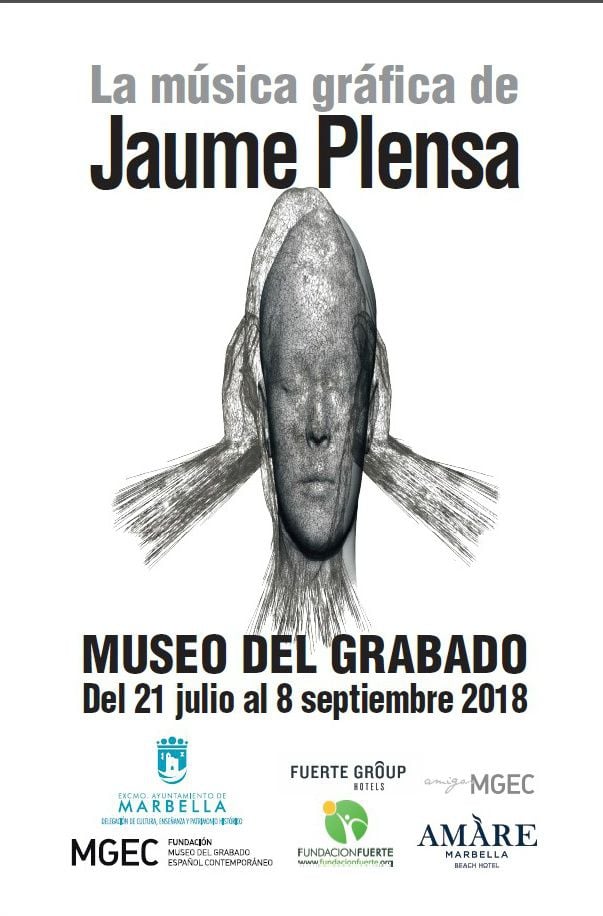 Event Details
The exhibition will be running up until Saturday the 8th of September at the Museo del Grabado.

The exhibition, produced by the Museum del Grabado for its space, has been curated by Chema de Francisco, Director of the International Contemporary Art Fair Estampa and has had the direct collaboration of Jaume Plensa, who has donated the works of his collection particular for the sample, which brings together a total of sixty-seven prints and a video installation.

The works were made between 1982 and 2017 and review the concept of the human body from very different interpretations. The variety of graphic resources (xylographs, etchings, photoetches), as well as representations and formats.

The body, according to Plensa, is the only true place; it is a world in itself, the receptacle of memory and emotions, the territory of the soul. This is equivalent to affirming that an exiled body is also a displaced memory; that a body imprisoned or battered retains an indomitable part no matter how small it may be. The body is an enigma. The body -and the flesh, the blood, the organs that constitute it-, as well as the brain -and the thought that moves and desires-, and also the singular face -an uncertain face for the other, which conceals as much as shows-, are always present in the work of Plensa since the mid-eighties.

Jaume Plensa (Barcelona, 1955) is a versatile artist who has experimented equally with printmaking, drawing, sound, video and even set design. He is one of the Spanish creators of greater international projection. He has lived and worked in Germany, Great Britain, France and the United States and has made sculptural pieces and installations for public spaces in these and many other countries, such as Italy, Japan, Canada, Sweden or Thailand.

After his first solo exhibition in 1980, at the Fundación Joan Miró in Barcelona, his work has been shown in museums around the world.

He has received numerous national and international awards: Medal of the Knight of Arts and Letters of the French Ministry of Culture in 1993; National Prize of Culture d'Arts Plàstiques of the Generalitat de Catalunya in 1997; Doctor Honoris Causa by the School of the Art Institute of the University of Chicago in 2005; Marshall Award of Excellence in Public Sculpture, London 2009 and many more.