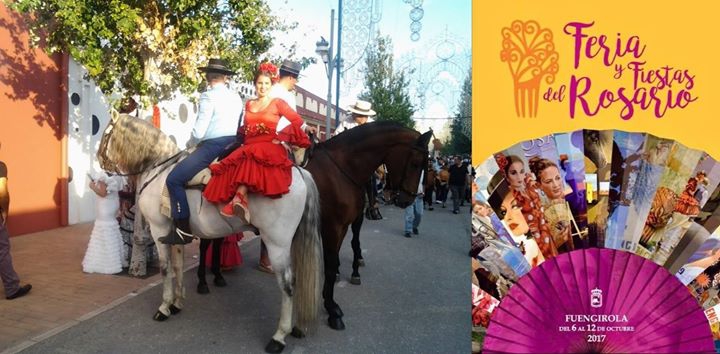 Event Details
Feria del Rosario takes place from 6th to 12th of October every year and is a traditional Spanish Fair, where the Spaniards are dressed up in their traditional flamenco outfits. The official opening takes place on the evening of the 6th October in the Palacio de la Paz, but it's the party at the Fair ground which attracts most people.

Access to the fair ground is absolutely free. In the casetas you can buy food and drinks. Throughout the fair there are plenty of free concerts and dance performances inside the casetas and there are also music and dance performances of very high quality at El Palacio de la Paz.

At the entrance to the fair ground there is a rather noisy amusement area with rides, roller coaster and various other activities. In the Casetas at the fair ground you can buy food and drinks and the party usually goes on to the wee hours. If you enter the various Casetas in the evening you can experience genuine flamenco, not the kind that you normally find in tourist resorts and you can truly feel how Spaniards let themselves be carried away by their national music.

Many shops and businesses are closed during the Fair, representing the termination of a very hectic tourist season. 7th of october is a local holiday in Fuengirola, while the 12th of october is a national holiday.

Programme
These are the performances that will take place in Palacio de la Paz (at the end of the Fair Ground).
-6. October 9.30 p.m. Opening ceremony. Academias de baile and Grupo Municipal de Danzas.
-7. October 10 p.m. Youth evening. Performance by the groups Efecto Pasillo and Miranda Cuenca. Free entrance.
-8. October 10 p.m. Bertín Osborne
-9. October 6 p.m. Children's party with characters from Clan TV. Invitations can be obtained in Concejalía de Fiestas (second floor in el Ayuntamiento) from 9 a.m. to 2 p.m.
-10. October 10 p.m. Manuel Lombo
-11. October 10 p.m. Rosario Flores
-11. October 10 p.m. XLI Flamenco Festival.

Entrances cost between 10 and 15 euros and can be bought between 10 a.m. and 1 p.m. and between 5 p.m. and 9 p.m. in Casa de la Cultura and also two hours before every concert in the ticket office in Palacio de la Paz.